Humans in Digital Humanities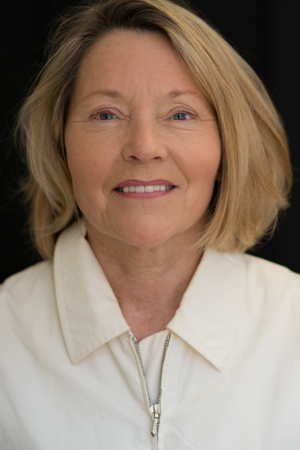 A series of interviews with faculty, staff, and students working in the digital humanities at the University of Virginia. The series spends time with the fascinating and talented people who are fortunate enough to work at the exasperating, unpredictable, and deeply interesting juxtaposition of humanities and digital technology. The interviews are edited for clarity.
Karen Van Lengen
is the William R. Kenan, Jr. Professor of Architecture. Before coming to Charlottesville, she was the first female Design Associate at I. M. Pei & Partners, won several major awards and competitions, and was appointed the Chair of Architecture at Parsons School of Design in 1995. In 1999, she came to UVA to be the Dean of the School of Architecture and began leading a decade-long redesign of Campbell Hall. In 2006, she founded the Women's Work series, a monthly lecture series promoting women's scholarship, and in 2010 she received the Elizabeth Zintl Leadership Award. In 2012 she became a Fellow at IATH with her
Soundscape Architecture project
, which examines the aural qualities of buildings and spaces and the role of sound in our built environment.
Karen Van Lengen
IATH Fellow
How did you end up in architecture?
Actually, I wanted to be a doctor when I was growing up, probably because my grandfather was a doctor. But when I went to college I discovered that all my friends were reading English novels and so on, and I decided that I wanted to do that too. I finished the pre-med courses but then I moved over into other territories that seemed more interesting. I majored in psychology, and then I started getting interested in architecture.
My mother had designed the house I grew up in and had wanted to be an architect. She first wanted to study physics, but was told, "No, you can't, you're a woman." Then she wanted to study architecture, and was told, "No, you can't, you're a woman. Why don't you study art?" So, she studied art and learned how to draft. She is an excellent 3D thinker, so when she was ready to build a house for us, she designed it. She had five small children and she stayed up every night to do the drawings. She wasn't trained as an architect, but she became one by doing It. The house has very specific attributes that she invented -- very much like Jefferson in a way. What it lacked in aesthetic sophistication it gained in inventive planning and details. She designed a house that streamlined the domestic activities of her family, so I grew up in special conditions particular to our family needs and relationships.
I went to Vassar, and they didn't have an architecture program. But a local architect, Jeh Johnson, taught one design course and one drawing course, and I took them both. He was just an amazing person. He loved teaching and he loved architecture and I loved going to that class. He would take us to see local projects and he introduced us to the idea that architecture is a window to the world, that by constructing a set of relationships we could deeply influence the world around us.
How do you describe yourself? As an architect, a professor, an administrator, a designer?
I consider myself an architect first, then an academic. It's what I became and how I see the world. To me, being a dean was being the architect of a school. It was designing a set of programs, processes, and (in our case) buildings or building ideas that would bring conscious form to the values and themes of the school. I was committed to building the school's potential as a synthetic act of design that included all of the school's disciplines related to environmental design. It was less about administering a set of existing processes and instead focused on building new relationships within the school and with the larger academic and professional worlds.
Do you think that architects are uniquely qualified for the collaborative demands of digital humanities?
Architecture has always been a collaborative act. There are architects who work by themselves on very small projects but for anything larger than a bathroom or a kitchen other partners and consultants will join in the process. And of course there is always the client. At minimum, we start with a structural engineer and a mechanical engineer, and on large projects the group turns into a cast of thousands. One must be able to pull everyone together and move that team forward. That is the job: one does not solve all the problems alone, particularly with the complexities of structural, mechanical, and landscape engineering. We must learn to work effectively with all of our partners and with the client.
One might say that it is akin to the conductor of a symphony, who does not know how to play all the instruments but has the vision for the collective piece and knows how to weave together all the different parts. It's a very complex landscape, and demands a deep understanding of the particular as well as the distant horizon.
You seem to have arrived at a good balance of your scholarship, your design work, and your family.
I think that being trained as an architect was good for that. If one is a thoughtful and successful architect, one learns to listen, to absorb, and to design patterns of multiple energies to move forward together. In this process, it is important to know what one knows and equally important to know what one does not know (and then to find out). We need to make a lot of choices and that requires knowing when to give in and when not to give in. It's a delicate balance. I always try to keep my eye on the large picture, because if I don't, I will get lost.
What are you most proud of, professionally (so far)?
I did a competition [the Amerika-Gedenkbibliothek Competition in Berlin in 1988] that I'm very proud of, for it was in this project that I found my own particular voice in architecture. I had been invited as one of 14 American Architects to compete for this well-known building addition in Berlin. I was a very young architect at the time and the circumstances for selection were almost serendipitous. I found myself in the company of a group of important emerging architects and it was daunting. At one point I even thought, "Maybe I shouldn't do this." But as a wise friend said to me at the time, "No one cares what you do because no one knows who you are, so go for it." After a year and a half of competing in three different stages, I won. I was proud that I had won, but what I was really proud of was the tenacity and personal will that had successfully guided me through that long process.
That happens earlier or later in an architect's life. In the case of Frank Lloyd Wright, he found his voice very early but most people have to work at it. I was a design associate at I.M. Pei & Partners and I understood and respected the logic of I.M. Pei & Partners buildings. It was a very clear, systematic thinking process that developed out of a dual commitment to clear structural logic combined with the development of socially engaging spaces, all of which were detailed with divine precision and care. Eventually, though, I came to ask the question, "What would I do if I were on my own?"
So during those early years at the Pei office, I did many competitions in order to build my own vocabulary and thinking process and to ask "What is really important to me?" Is it the function, the client, the aesthetics? Actually, it's all of those things and one has to find a way to knit them together with a sense of continuity and spirit. The Berlin project did that did that for me. With that project I walked from darkness into light.
And now, I feel like I'm back in that dark forest again on this IATH project, because it's not something that I've ever done before and there are no precedents for it. So it's challenging. But somehow I do feel that we are breaking new ground. And one thing that I have learned at my age is that – when in doubt, just keep on working, even if you don't know where you're going, you keep on working, and then out of the process, a strain, a sign emerges. One doesn't know exactly what is coming next but I have confidence that through this iterative process we can get there.
The other project that I'm very proud of is Campbell Hall. Again, it was an impossible situation. I was told that I could only build something that mimics a Jefferson building. That was a shock to me as I arrived at UVA. In the end our design struggles led us to invent a truly innovative process and product. We got it done, but not in the normal way.
There were eleven projects completed by our design faculty. It was a way to create our own identity at Campbell Hall, to demonstrate our talents and perspectives as designers in a school of architecture. The efforts that had proceeded my deanship had failed many times and I knew that we could not afford to fail again. I worked with Pete Anderson, the University Architect as well as with the Board of Visitors to shape the project into what we have today. To their credit, most of our partners came to understood the mission of the project and helped me to move forward but not without intense negotiation and dialogue. It was a long haul.
People think that architects make a napkin sketch and then the project is essentially done and one moves on to the next project. It is a long, long involved process and it has a million landmines.
But you really relish that.
I really do like strategic thinking and planning. I also have learned that I need to have accomplished collaborators who are excellent administrators working along side of me. One of the great attributes of intelligent people is that they figure out what they know and what they don't know and then set about to create good working and complimentary relationships in order to accomplish institutional goals.
The Amerika-Gedenkbilbiothek and Campbell Hall were both large and highly complex institutional projects. They both had significant press coverage and served to promote the ideas and themes I had hoped to develop.
On the other end of the complexity scale and not too long after the library project, my husband and I made our daughter a tiny playhouse out of discarded fabric rolls from our neighborhood in Soho, New York. The clothing factories discarded the empty tubes on the street, so we collected them and made a very handsome little playhouse for her. It was so simple! We made it during her naptime. We had an idea about it; we discussed it on the phone, and then made it in a couple of hours. It was a little environment in a large loft. I loved its modesty, its simplicity and its aesthetic beauty -- and just a naptime exercise.
She was a good client.
She was a great client -- she was asleep! But she came out and said, "WOWhhh!" and started putting things in it immediately. She just loved it and her friends loved it. She used it for four or five years before we left to come to [UVA].
What drew you to think about sound and architecture?
I've always been sensitive to sound. For example, when I think about my mother's house, I remember the specific sounds - I can't really think about the house without hearing them. We never talk about that in architecture. We talk about materials and how they look, we talk about light and how light strikes materials, how it moves through rooms, but we never talk about sound. The sounds of everyday spaces are left out of the conversation.
Probably one of my pivotal life experiences was in college when my music professor played 4'33", the John Cage piece. It was as if a door had opened and I suddenly perceived space based on sound. As Cage himself said - one can learn so much just by listening. What one can learn about an environment by listening is not only its acoustical nature, but also, in the act of intense listening one tends to augment the visual memory of the space as well. When I record spaces, I visually remember the space much better than when I just go and look. The information that comes from listening is extraordinary. We have a lot of technology noises in our environment right now: we have air conditioners, the beeps of elevators, our phones… everything is going off constantly. The noises are there for a reason and aren't going away, but they tend to shape the way we perceive our spaces and most people don't even notice it.
In tandem with the IATH project, I also received a Jefferson Trust Grant this spring to work with students in architecture and music to make an aural interpretation of the Lawn. We have promoted the architecture of the Lawn almost exclusively as a visual experience. As America's space of democracy, dialogue, discussion, and the aural tradition are paramount to our deeper understanding of this space but we rarely discuss the Academical Village in these terms. I'm really interested in trying to find the hook for people to be on the Lawn and to hear as much as they see, to understand that dialogue still has a very important role in our lives with respect to learning, understanding diverse viewpoints, and being totally engaged in the essence of a democracy. Real dialogue is possible only if thoughtful listening accompanies the process.
Being at IATH this past year has been one of the most positive experiences I've had at UVA, because I found a group of people at the University who are truly interested in what I am trying to do, which is not easy and not discipline-specific only to architecture. In fact many people all over Grounds have been supportive of the project and their enthusiasm has given all of us the confidence to march forward. That's very meaningful to me, since it indicates that there's a level of truly independent and creative thinking going on here at UVa, that's both related to but also different from the disciplinary discourses. This is one of the places from which innovative and new work is emerging.