IATH News
Circus Comes to Charlottesville
By: Charles Feigenoff
Explorations: Research & Public Service
Thursday, May 20, 2004, Spring issue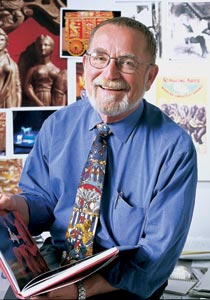 LaVahn Hoh';s first encounter with the circus was momentous. "It made such an impression on me that I can still describe what I saw that day," he recalls. Fifty years later, Hoh is as passionate about the circus as ever—but now he knows more about it than all but a handful of people.
Hoh, a professor of drama and an expert in technical theater and special effects, could never get the sawdust out of his veins. As an adult, he continued to go to circuses every chance he could, visiting such shrines for circus lovers as the Circus World Museum in Baraboo, Wisconsin, and the Ringling Museum of the Circus in Sarasota, Florida.
As an experiment, he decided to share his love of the circus with his students. He papered the grounds with colorful posters announcing a course in circus history and waited to see what happened. "I was worried that few people would hear about it, because people who liked the posters kept on taking them down," he says. Forty-five students signed up the first year, and the next year he had to turn 150 students away. The History of the American Circus is the only accredited course of its kind in the world. Because he could find no suitable textbook for it, he coauthored his own, Step Right Up! The Adventure of Circus in America.
Since that time, he has served as archivist at the Ringling Brothers and Barnum & Bailey Clown College and taught a short course on circus history to its students, produced a video on the Clyde Beatty-Cole Bros. Circus, authored articles on the circus for a handful of major encyclopedias, and appeared in numerous television documentaries. He is currently a fellow at the University's Institute for Advanced Technology in the Humanities, where he is creating a Web site titled "The Circus in America, 1793 to 1940," which should go live during the summer of 2004.
Gathering information about circuses is no easy matter. Information is scattered at a number of sites across the country and much of the material has yet to be catalogued. "I spend a good deal of time visiting repositories and private collections, looking at posters, old newspapers, route books, programs, photographs, and personal letters," he says. "I can help organize these collections and digitize material to be included in the Web site." Another difficulty is the transitory nature of the circus itself. Circuses were never in one place long. They arrived in a city, stayed for a few days or a week, and pulled up stakes, leaving few traces of their presence.
Paradoxically, it is precisely because circuses provide such a contrast to the stable communities they visited that Hoh finds them so rewarding to study. They tell us a great deal about American culture. For people in isolated communities across nineteenth-century America, going to the circus was a way to participate in a greater, more romantic, and more exciting world. The study of circuses, therefore, sheds light on the aspirations and dreams of the average American of the time, which in turn provide an oblique reflection on their everyday lives. The study of circuses also sheds light on incorporation of American business during the late nineteenth and early twentieth centuries, as circuses made the transition from small, performer-operated shows to big businesses.
While all these topics and more will be included in the Circus in America Web site, Hoh will not neglect the larger-than-life performers and impresarios who brought the circus to life. "Their stories are fascinating," he says, "and their courage and talent is amazing."
Original article appears in "Explorations: Research & Public Service, Spring 2004"