IATH News
U.Va.'s Institute for Advanced Technology in the Humanities Receives IBM Research Grant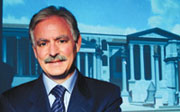 Dec. 12, 2006 -- (UVaToday Online) Fast graphic application. Server access from the Internet. Wireless, hand-held access from anywhere in the world. These are some of the applications the University of Virginia's Institute for Advanced Technology in the Humanities plans to develop to enhance its visualization projects thanks to an IBM Shared University Research award.
The University of Virginia is one of 10 academic institutions from three continents chosen to receive the IBM grant. The SUR award allows each university to use IBM's Cell Broadband Engine technology to connect top researchers in academia with IBM researchers and to facilitate projects of mutual interest. The Cell/B.E. processor's revolutionary design features a central processing core based on IBM's Power Architecture™ technology and eight synergistic processors that offer fast performance for computer virtual reality, wireless downloads, real-time video chat, interactive TV shows as well as other image-intense computing environments.
Perhaps the most commonly recognized application of the Cell/B.E. processor is in Sony Computer Entertainment's PLAYSTATION®3, which is being touted for its speed, online connectivity, interactive capabilities and reality experience. According to an IBM press release announcing the award, Cell/B.E. technology will enable students and faculty to drive innovation and foster skill development in digital media, software platform performances and medical imaging solutions.
"The Cell blade is a new kind of server based on the cell chip. It's very fast and powerful for graphic applications," said Bernard Frischer, director of IATH. "The real-time visualization server generates images at 30 frames per second or faster."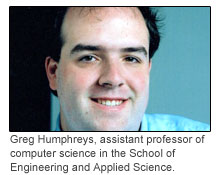 Frischer will use the technology to develop real-time rendering of Rome, an ongoing project that models the city at the height of its development in 400 A.D. The model contains roughly 50,000 buildings and expands on Frischer's Digital Roman Forum project that allows travel through the model, seeing the way the Forum was constructed, navigating in any direction as well as journeying between time periods within archaic Rome. The Digital Roman Forum project is not animation; instead, the user controls movement through time and space to explore the model.
Frischer shares the grant award with Grigori (Greg) R. Humphreys, assistant professor of computer science in the School of Engineering and Applied Science.
"The CELL processor represents the state of the art in modern computer architecture. We're incredibly excited to explore the potential of the new directions in high performance computing and visualization enabled by its design," Humphreys said.
Because it is a whole new realm of computer architecture, there are practically no programs that exist to exploit the potential of the cell, Frischer said. "Greg will be involved in unlocking the magic and potential of the cell by creating programs and technical infrastructure that we need."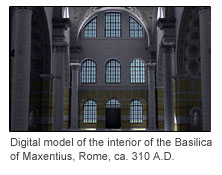 The cell technology will allow the project to be viewed on the Internet and available to everyone. "To get to the end user is a challenge," Frischer said. Currently, whether he is on Grounds or presenting his visual recreation in Brazil or other faraway places, Frischer must carry a large computer with him to access the computer model. Internet access and the capability to allow multiple logins would provide both an academic advantage as well as open the project to commercial markets, Frischer added.
The ten universities include in the IBM SUR award are: Georgia Institute of Technology, University of California San Diego, University of Illinois, University of Minnesota, University of Virginia, University of Washington, United Arab Emirates, University of Dublin Trinity College, Universidad Politécnia de Cataluna and Tsinghua University.
ABOUT THE SUR AWARD
IBM's highly-selective SUR program awards computing equipment, software and services globally to higher-education institutions in order to facilitate research projects of mutual interest, including: the architecture of business and processes, real-time data analysis, privacy and security, supply chain management, information based medicine, deep computing, event-driven computing and storage solutions. The SUR awards also support the advancement of university projects by connecting top researchers in academia with IBM researchers, along with representatives from product development and solution-provider communities. IBM supports approximately 50 SUR awards per year worldwide.

IATH director Bernard Frischer discusses the IBM Shared University Research award [download.mp3]