IATH NEWS
A Special Visitor from Papua New Guinea
February 11, 2015
IATH and the UVA Department of Anthropology are hosting a special visitor from Papua New Guinea. Jacob Sonin is a native speaker of Cemaun Arapesh, an endangered language of the Sepik coast of northern Papua New Guinea. Fewer than 100 people speak it fluently and younger speakers have limited engagement with it in their daily lives. Sonin is also conversant in English and fluent in Tok Pisin, a creole language and the language of common use throughout Papua New Guinea.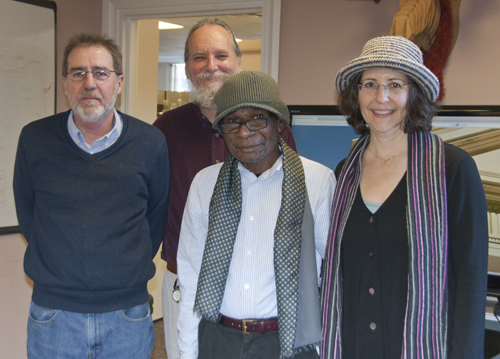 IATH Directors Daniel Pitti and Worthy Martin with Jacob Sonin and Lise Dobrin
Sonin is visiting UVA for a two-month residency, sponsored by the Center for Global Inquiry + Innovation and Lise Dobrin, Associate Professor of Anthropology and Director of the Interdisciplinary Program in Linguistics. Dobrin curates the Arapesh Grammar and Digital Language Archive (AGDLA), a digital text and audio collection of stories, songs, speeches, and interviews by Arapesh people.
Dobrin became a part of Sonin's family when she was a student doing her PhD research in his village. Dobrin says she is thrilled to be able to reciprocate his village's generosity by inviting him to UVA. She and her family refer to Sonin as their "father," "father-in-law," and "grandfather." At a welcome event in the Department of Anthropology upon his arrival, Sonin said, "This is a very important day for me."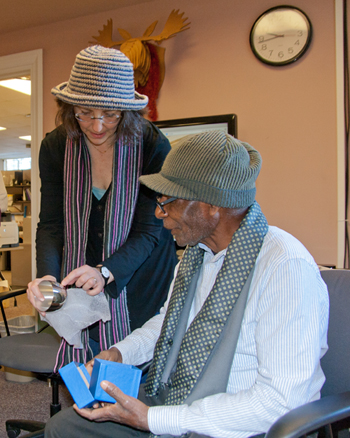 Sonin and Dobrin, looking at a Jefferson cup given by IATH to Sonin as a welcome gift.
Brian Owensby, Director of the Center for Global Inquiry + Innovation said, "We are so pleased that CGII is supporting this level of scholarly and cultural collaboration. UVA is fortunate to be in a position to host Jacob and to benefit from his willingness to share his knowledge and language with the UVA community. At a time when indigenous peoples face growing challenges to their ways of life, it is crucial that work like Dobrin's and Sonin's to preserve a living, endangered language be honored and supported."
As part of his residency, Sonin will provide Tok Pisin translations for most of the Cemaun Arapesh texts in the AGDLA archive. He will also serve as native speaker consultant for Linguistic Field Methods, a course that provides undergraduate and graduate students with practical experience in documenting and acquiring a language without written materials or prior classroom knowledge.
Sonin will also collaborate with Dobrin in a series of events designed to help University and community members understand efforts to preserve small, minor, and endangered languages. This will include a presentation at the Kluge-Ruhe Museum of Aboriginal Art, the public face of the indigenous Pacific in Charlottesville. On February 26, Sonin and Dobrin will talk about "Arapesh people and the things they make, give, and acquire," discussing how shell ring money, net bags, wooden carvings, and other items of value are transacted in and out of Arapesh communities in order to develop and maintain social ties.
The Center for Global Inquiry + Innovation is a UVA initiative that seeks to harness the expertise, energy and interests of UVA towards a new intellectual agenda commensurate with a global age. Through internal grants, intellectual programming and close coordination with allied units within the University, the Center creates opportunities for faculty to think broadly, collaborate across disciplinary lines and strengthen international links with colleagues across the world.