IATH News
American Society of Architectural Illustrators Award of Excellence Goes to Chad Keller
February 2008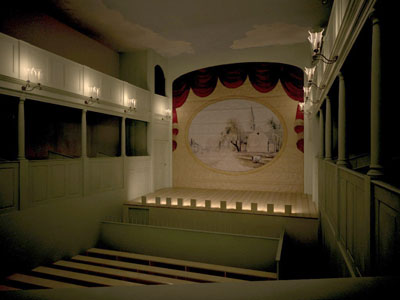 The American Society of Architectural Illustrators (ASAI) announced that Chad Keller, a multimedia designer at UVA's Institute for Advanced Technology in the Humanities (IATH), has won the Society's Architecture in Perspective Award of Excellence for his work in creating a 3D computer model illustrating the late eighteenth-century phase of the Douglass Theater in Williamsburg, Virginia. His entry was selected from the more than 500 print and digital submissions and will be featured in the ASAI 23rd Architecture in Perspective exhibition.
Architecture In Perspective is a juried international architectural delineation competition that has included work by the most accomplished contemporary architectural illustrators from around the world. The exhibition consists of approximately sixty pieces of artwork selected by a jury of respected professionals from the fields of architecture, illustration, journalism, and design education. It opens September 4, 2008, at Montana State University's Cheever Gallery and will later travel around the United States.
The Douglass Theater was built in 1760 for a travelling English theatre group, but was torn down by 1780. A team of archaeologists, architectural historians and 3D modelers from the Colonial Williamsburg Foundation and IATH built a digital reconstruction of the building. Keller was the project coordinator for IATH and was responsible for converting the team's ideas into a 3D digital model, using 3D Studio Max software. The computer model was created with support of the Andrew W. Mellon Foundation and in cooperation with the Colonial Williamsburg Foundation. For images and a video clip showing Keller's work, see "Virtual Williamsburg".
ASAI is a non-profit international professional organization of architectural illustrators. For more information, please see http://www.asai.org.
The Colonial Williamsburg Foundation operates the world's largest living history museum in Williamsburg, Virginia, allowing visitors to visit and study the restored 18th-century capital of Britain's largest, wealthiest, and most populous outpost of empire in the New World. For more information on the Colonial Williamsburg Foundation see http://www.history.org.