IATH NEWS
Salem Witch Trials in the News
November 1, 2010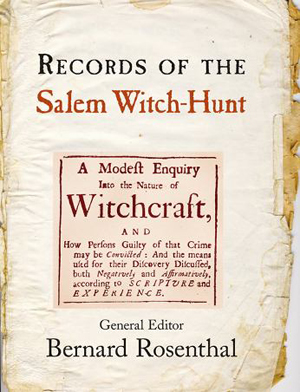 Ben Ray's IATH project is often referred to as the Salem Witch Trials Archive, but the full title is the Salem Witch Trials Documentary Archive and Transcription Project. The transcription project was a new and complete transcription of legal records connected with the 1692 trials. The final product of this work was published this year by Cambridge University Press as Records of the Salem Witch Hunt. It is the first comprehensive record of all of the extant legal documents, and includes newly discovered documents, scholarly notes, and chronological arrangement for the first time. Bernard Rosenthal, Professor of English at Binghamton University, was the editor-in-chief of the Transcription Project and the general editor of the book. The transcription work was funded by a grant from the National Endowment for the Humanities.
The documentary archive portion of the project has been the subject of both scholarly and popular attention recently. Interest in Salem and witches often peaks around Halloween, and this year Roanoke, VA, CBS station WDBJ reporter Keith Humphry interviewed Prof. Ray about putting the trial records on-line.
Prof. Ray also wrote an article examining the political, social, and cultural factors that sparked and fed the witch accusations and trials, "They Did Eat Red Bread Like Mans Flesh." The article, published in the American Antiquarian Society's on-line journal Common-place, is one in a series of articles that Prof. Ray has published in the last two years (previous articles were in New England Quarterly and William and Mary Quarterly). He was able to utilize the newly published records as well as the maps and histories already published in the documentary archive as primary resources. He has recently completed an article on the plague-like nature of the accusations and trials, where seemingly small events and actions mushroomed into a 13-month tragedy that involved thousands of people over a relatively wide geographic area.