IATH News
Katherine Rinne's new book on the Waters of Rome
March 1, 2011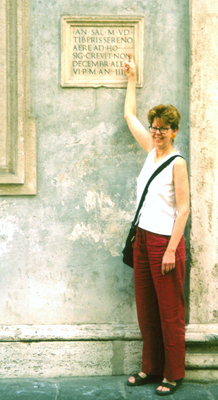 Katherine Rinne's new book The Waters of Rome: Aqueducts, Fountains, and the Birth of the Baroque City was published in January by Yale University Press. Her book is a pioneering study of Renaissance Rome's water infrastructure, based on Rinne's in-depth topographical research. The book focuses on 1560-1630, a period of urban renewal sponsored by religious and civil authorities, and provides a social and cultural history of water technology and urban development that helped turn a medieval backwater into the preeminent city of early modern Europe.
The book results in part from Rinne's IATH project, Aquae Urbis Romae: the Waters of the City of Rome. It includes many original maps and research that build on her cartographic history of water infrastructure and urban development in Rome. Her IATH project features a map and timeline showing natural and artificial features over more than 2,500 years, from early 8th century BCE settlements through the 21st century.
Rinne is an independent scholar, and currently an adjunct professor in the department of architecture at the California College of the Arts. Her research for both her book and her IATH project has been sponsored in part by the National Endowment for the Humanities, the National Science Foundation, the Samuel H. Kress Foundation, The John Simon Guggenheim Memorial Foundation, the John Anson Kittredge Educational Trust, and the Dibner Institute for the History of Science and Technology at MIT.