IATH NEWS
IATH 2011 Spring Speaker Series
February 2, 2011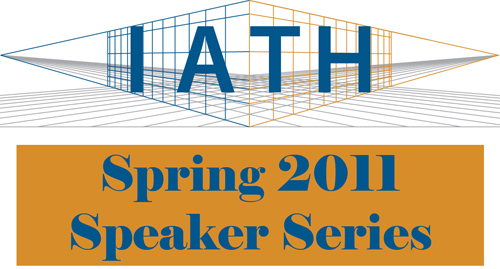 IATH is pleased to kick off its 2011 Spring Speaker Series at 1pm on Thursday, February 17, with Andrew Grimshaw, Director of the UVa Alliance for Computational Science & Engineering (UVACSE), Professor of Computer Science. The talk will take place in the IATH Conference Room (Alderman 319). Dr. Grimshaw will discuss UVACSE's role in transforming computational research at UVA and in the University's computing and digital humanities landscape.
On Friday, March 25, former IATH Director John Unsworth, now the Dean and Professor of the Graduate School of Library and Information Science and Director of the Illinois Informatics Institute at the University of Illinois, Urbana-Champaign, will speak. The series finishes on Friday, May 6 with Myron Gutmann, Assistant Director, National Science Foundation, Head, Directorate for the Social, Behavioral, and Economic Sciences, and Professor of History, University of Michigan. These two presentations are co-sponsored by the Scholars' Lab at the UVA Library and SHANTI.Times and venues will be announced later in the semester.
Questions should be directed to iath-info@virginia.edu or 924-4370.
All are welcome!